Hoje anda meio-mundo preocupado com o aquecimento global/alterações climáticas, exigindo medidas drásticas para salvar o planeta e acusando o outro meio de ser estúpido, mau ou uma combinação de ambos os defeitos. Há 30 anos, a preocupações eram outras, mas igualmente apocalípticas e mobilizadoras das mentes mais ilustres e bem intencionadas, como hoje dispostas a sacrificar valores reais para fazer face a ameaças hipotéticas - a própria definição de mentalidade revolucionária
1)
, segundo
Olavo de Carvalho
. Vejamos primeiro o problema e algumas propostas para o resolver:
«As of 1977, we are facing a global overpopulation catastrophe that must be resolved at all costs by the year 2000. We will need to surrender national sovereignty to an armed international police force. A "Planetary Regime" should control the global economy and dictate by force the number of children allowed to be born. Nothing is wrong or illegal about the government dictating family size. The government could control women's reproduction by either sterilizing them or implanting mandatory long-term birth control. Mass sterilization of humans though drugs in the water supply is OK as long as it doesn't harm livestock. Single mothers should have their babies taken away by the government; or they could be forced to have abortions. Compulsory abortions would be legal. The kind of people who cause "social deterioration" can be compelled to not have children.»
As frases supra são da autoria (em coautoria com Paul R. Ehrlich e Anne H. Ehrlich) de
John P. Holdren
, publicadas no livro
Ecoscience
. E por que razão, pergunta o leitor, é que estou a citar estas frases assustadoras de um lunático revolucionário, que encarna as mais temíveis pulsões totalitárias, aplicadas por um governo global? Porque o lunático revolucionário, eugenista, tiranete em potência foi nomeado
Science Czar
(uma espécie de Alto Comissário para a Ciência,
sem poderes executivos, mas com a particularidade de trabalhar na dependência directa do presidente americano, como conselheiro estratégico
)
2)
pelo presidente Obama. Leia sobre este assunto
todo o artigo
com a contextualização das citações supra e discussão sobre as mesmas, com fotografias do livro. Certo é que quem pensou desta maneira há 30 anos, já homem maduro, e propôs aquelas soluções é alguém que deve ser temido.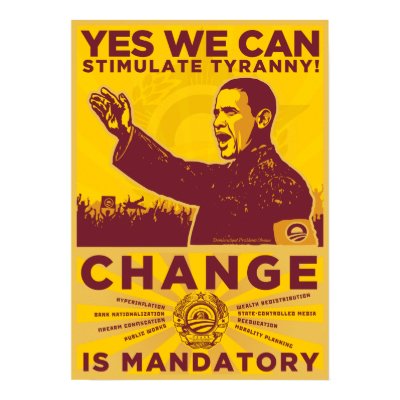 Via
Hot Air
.
1)
"Mentalidade revolucionária" é o estado de espírito, permanente ou transitório, no qual um indivíduo ou grupo se crê habilitado a remoldar o conjunto da sociedade – senão a natureza humana em geral – por meio da ação política; e acredita que, como agente ou portador de um futuro melhor, está acima de todo julgamento pela humanidade presente ou passada, só tendo satisfações a prestar ao "tribunal da História".
2)
Procedi a uma correcção da caracterização do cargo após a leitura do artigo em hiperligação.
Addendum
: na altura da redacção deste postal senti alguma familiaridade com os nomes dos coautores do livro
Ecoscience
. Dei-me conta mais tarde que, tal como Holdren, são hoje destacados campeões da luta contra o aquecimento global ou lá o que quer que seja que justifica neste momento a construção de uma nova sociedade sobre os escombros da nossa.