Para tratar deste tema, urge começar por fazer algumas declarações categóricas, para nos pormos a salvo de acusações de má-fé: o abuso sexual é uma prática abominável, independentemente do perfil da vítima; é-o ainda mais se cometido sobre menores; é especialmente agravado se cometido por pessoas incumbidas de zelar pelos interesses das vítimas; é ainda mais escandaloso quando aos abusadores está confiada a orientação moral e religiosa das vítimas; as principais vítimas são sempre os abusados; os abusos não-sexuais também são condenáveis. Dito isto, passemos ao tema propriamente dito, através de excertos de um
magnífico artigo
de
Massimo
Introvigne
, cuja leitura integral se recomenda. Depois de uma apresentação do conceito sociológico de
pânico moral
e dos seus agentes, os
empresários morais
, Introvigne aborda os casos de abusos sexuais perpetrados por membros do clero que têm vindo a merecer ampla cobertura mediática. Para tal, apresenta as conclusões de um estudo realizado sobre a matéria pelo John Jay College of Criminal Justice, instituição pertencente à City University of New York:
«(...) Questo studio ci dice che dal 1950 al 2002 4.392 sacerdoti americani (su oltre 109.000) sono stati accusati di relazioni sessuali con minorenni. Di questi poco più di un centinaio sono stati condannati da tribunali civili. Il basso numero di condanne da parte dello Stato deriva da diversi fattori. In alcuni casi le vere o presunte vittime hanno denunciato sacerdoti già defunti, o sono scattati i termini della prescrizione. In altri, all'accusa e anche alla condanna canonica non corrisponde la violazione di alcuna legge civile: è il caso, per esempio, in diversi Stati americani del sacerdote che abbia una relazione con una – o anche un – minorenne maggiore di sedici anni e consenziente. Ma ci sono anche stati molti casi clamorosi di sacerdoti innocenti accusati. Questi casi si sono anzi moltiplicati negli anni 1990, quando alcuni studi legali hanno capito di poter strappare transazioni milionarie anche sulla base di semplici sospetti. Gli appelli alla "tolleranza zero" sono giustificati, ma non ci dovrebbe essere nessuna tolleranza neanche per chi calunnia sacerdoti innocenti. Aggiungo che per gli Stati Uniti le cifre non cambierebbero in modo significativo se si aggiungesse il periodo 2002-2010, perché già lo studio del John Jay College notava il "declino notevolissimo" dei casi negli anni 2000. Le nuove inchieste sono state poche, e le condanne pochissime, a causa di misure rigorose introdotte sia dai vescovi statunitensi sia dalla Santa Sede.
Estes dados estatísticos contrariam algumas ideias mais ou menos arreigadas no senso comum: que o abuso sexual de menores cometido por membros do clero é prevalente em relação ao cometido por membros de outras profissões ou ministérios; que se verifica uma relação entre o celibato e estas práticas; que não há relação entre a orientação sexual do abusador e a ocorrência de abusos. Considerados estes dados estatísticos, Introvigne foca os casos recentemente trazidos a público:
«(...) Le polemiche di queste ultime settimane sulla Germania e l'Austria mostrano una caratteristica tipica dei panici morali: si presentano come "nuovi" fatti risalenti a molti anni or sono, in alcuni casi a oltre trent'anni fa, in parte già noti. Il fatto che – con una particolare insistenza su quanto tocca l'area geografica bavarese, da cui viene il Papa – siano presentati sulle prime pagine dei giornali avvenimenti degli anni 1980 come se fossero avvenuti ieri, e che ne nascano furibonde polemiche, con un attacco concentrico che ogni giorno annuncia in stile urlato nuove "scoperte" mostra bene come il panico morale sia promosso da "imprenditori morali" in modo organizzato e sistematico. Il caso che – come alcuni giornali hanno titolato – "coinvolge il Papa" è a suo modo da manuale. Si riferisce a un episodio di abusi nell'Arcidiocesi di Monaco di Baviera e Frisinga, di cui era arcivescovo l'attuale Pontefice, che risale al 1980. Il caso è emerso nel 1985 ed è stato giudicato da un tribunale tedesco nel 1986, accertando tra l'altro che la decisione di accogliere nell'arcidiocesi il sacerdote in questione non era stata presa dal cardinale Ratzinger e non gli era neppure nota, il che non è strano in una grande diocesi con una complessa burocrazia. Perché un quotidiano tedesco decida di riesumare questo caso e sbatterlo in prima pagina ventiquattro anni dopo la sentenza dovrebbe essere la vera questione.»
E Introvigne procura responder a esta questão:
«Perché riesumare nel 2010 casi vecchi o molto spesso già noti, al ritmo di uno al giorno, attaccando sempre più direttamente il Papa – un attacco, per di più, paradossale se si considera la grandissima severità del cardinale Ratzinger prima e di Benedetto XVI poi su questo tema? Gli "imprenditori morali" che organizzano il panico hanno un'agenda che emerge sempre più chiaramente, e che non ha veramente al suo centro la protezione dei bambini. La lettura di certi articoli ci mostra come – alla vigilia di scelte politiche, giuridiche e anche elettorali che un po' dovunque in Europa e nel mondo mettono in questione la somministrazione della pillola RU486, l'eutanasia, il riconoscimento delle unioni omosessuali, in cui quasi solo la voce della Chiesa e del Papa si leva a difendere la vita e la famiglia – lobby molto potenti cercano di squalificare preventivamente questa voce con l'accusa più infamante e oggi purtroppo anche più facile, quella di favorire o tollerare la pedofilia. Queste lobby più o meno massoniche manifestano il sinistro potere della tecnocrazia evocato dallo stesso Benedetto XVI nell'enciclica Caritas in veritate e la denuncia di Giovanni Paolo II, nel messaggio per la Giornata Mondiale della Pace del 1985 (dell'8-12-1984), a proposito di "disegni nascosti" – accanto ad altri "apertamente propagandati" – "miranti a soggiogare tutti i popoli a regimi in cui Dio non conta".

Davvero è questa un'ora di tenebre, che riporta alla mente la profezia di un grande pensatore cattolico del XIX secolo, il vercellese Emiliano Avogadro della Motta (1798-1865), secondo cui alle rovine arrecate dalle ideologie laiciste avrebbe fatto seguito un'autentica "demonolatria" che si sarebbe manifestata particolarmente nell'attacco alla famiglia e alla vera nozione del matrimonio. Ristabilire la verità sociologica sui panici morali in tema di preti e pedofilia di per sé non risolve i problemi e non ferma le lobby, ma può costituire almeno un piccolo e doveroso omaggio alla grandezza di un Pontefice e di una Chiesa feriti e calunniati perché sulla vita e la famiglia non si rassegnano a tacere.»
Conclusão: estes casos são projectados para a arena mediática quando se torna conveniente para algumas correntes de pensamento dito progressista ― as que se batem pelo aborto livre e pela equiparação das uniões civis ao casamento ― atacar as únicas vozes que se opõem a essas causas de suposto progresso social: a Igreja e o Papa.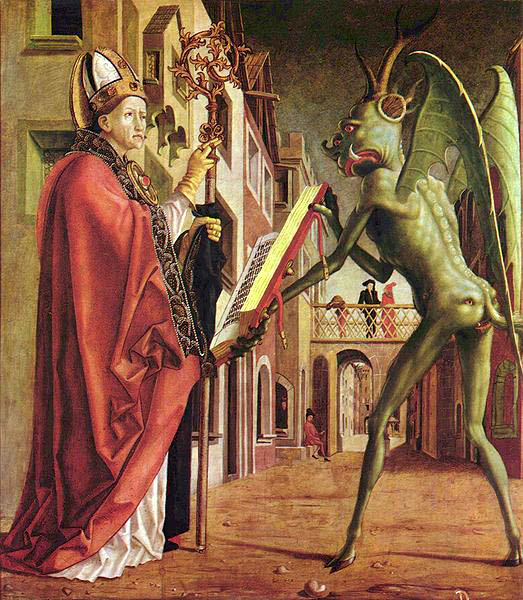 São Wolfgang e o Diabo, de Michael Pacher (ca. 1435-1498)
Via
O Cachimbo de Magritte
.